"If we came to Canada and didn't offer ketchup-flavored potato chips, then we would have looked like we didn't know what we are doing,"
says the
head of Target Canada
. In other words, the U.S. company behind the red bulls-eye logo can't simply add a maple leaf and use Canadian spelling to impress shoppers as it readies its new store openings.
Customers can tell at a glance whether a retailer understands what they prefer. If locally-produced or locally-popular products are featured on store shelves, if cold-weather products are available in northern states during winter, those are signs that the retailer is paying special attention to customer behavior on a store-by-store basis. By tailoring the merchandise assortment to local needs, retailers can compete more effectively and boost sales/profits. This approach also sends a signal that the retailer is committed to understanding the local community.
Local merchandising is nothing new--but national chains are still rediscovering its marketing power. Walmart, Walgreens, Trader Joe's and others are
playing up local
interests and local favorites with signage, displays, and special events that appeal to local shoppers.
Macy's
is involving its employees in the effort to tailor merchandising and service to local preferences.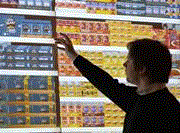 In the UK, Tesco has adopted
virtual merchandising
as a way to see, at a glance, what store shelves would look like with certain products and a certain number of facings for each product, category, and brand (see photo at right).
The system allows Tesco's marketers to rearrange shelf displays for different stores, and also overlay data about sales velocity or profits as an input to decisions about what goes where. What should be placed at eye level, what should be placed on the top shelf, what should be placed at the bottom? This system helps its marketers decide.