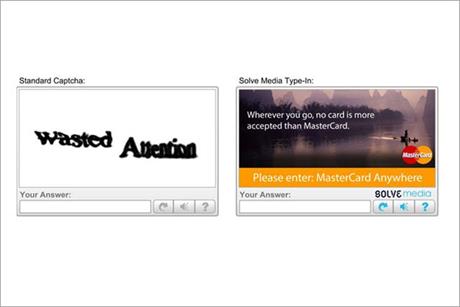 Working with
Solve Media
, Unilever and MasterCard are using Captcha to communicate brand messages to, um, captive audiences. You know
Captcha
--those distorted words you're asked to type to prove you're not a machine when you want to post a comment online. All over the world, people face Captcha challenges hundreds of millions of times every day. Now Solve Media has harnessed Captcha to put succinct brand messages in front of Internet users on thousands of sites.
Above left, a typical Captcha--more readable IMHO than the usual phrases. At right, the branded message representing MasterCard. Given the option of trying to decipher words that are deliberately difficult to read OR typing "MasterCard Anywhere," I'd choose the branded message any time. And that's one of the advantages Solve Media
cites as a plus
for people reading the branded message and typing the brand answer. Another plus: the advertiser only
pays
when the message is typed correctly.
A Unilever exec points to the
importance
of staying "at the forefront of the advertising ecosystem, particularly in the digital sphere." This is only one of Unilever's many
digital
initiatives as the packaged-goods firm ups its investment to support its growth strategy.
Traditional advertising theory suggests that audiences need repeated exposure to messages to be able to comprehend them and process them in preparation for taking action. But I admit, this might get on my nerves if I ran across the same branded message two, three, or four times in a single day.