Although Halloween is still 29 days in the future, Christmas is right around the corner for marketers in the toy industry. Already we're seeing lists of the top toys for Christmas 2012. Here's a preview:
Time to Play
magazine says that a new Thomas the Tank Engine toy will be the must-have for kids 2 and up. Never fear, there's a digital device for age 3 and up, the
LeapPad2
, a tablet computer for toddlers--complete with apps. A few others among the magazine's picks are Teenage Mutant Ninja Turtles action figures and new MEGA Blocks kits.
Toys 'R' Us is offering its own list of 15 hot toys, ready for
reservation
so gift-givers don't find themselves without this year's trendy toy. With a 20% deposit, you can reserve your Furby or LeapPad2 or Lego Ninjago Epic Dragon Battle kit. Or a
1D
collectors' set of figures from the hot new boy band, among other toys.
Target has its own list of 24
top
toys, including Disney's Bounce Bounce Tigger and Lego Friends kits (for girls), plus a few toys that overlap with other lists.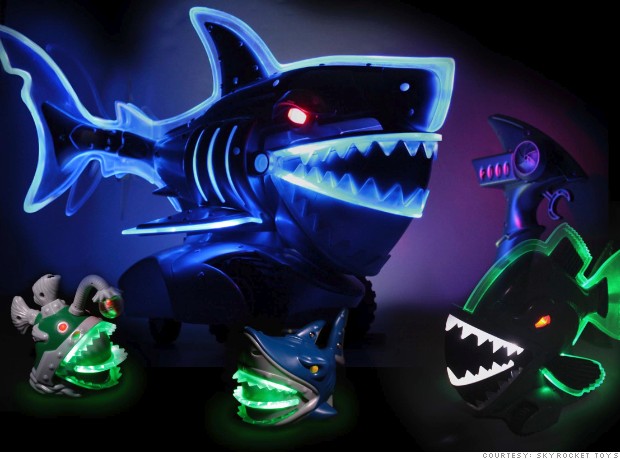 Finally,
CNN
Money picks 7 toys made by small businesses that it believes will be in high demand for Christmas 2012, including
Illumivor Mecha-Shark (left) and
Perplexus Twist, a solve-it 3D toy.